Table of
contents
---
7.8.2012
OpenGL (4.3) compute shader example
Introduction
OpenGL 4.3 was released yesterday, and among the larger updates were compute shaders. Today, since I couldn't find a tutorial/example on google, I'm going to show you how to use them.
Compute shaders in the pipeline
The important thing to note is that while the other shaders have a fixed execution order, compute shaders can essentially alter any data anywhere. Shader objects within a program object are implicitly pipelined after another, and a program object is "ready to go" as it is. Compute shaders cannot be baked into a program object alongside other shaders as their execution order is not fixed. Instead, compute shaders have to be placed into program objects by themselves and the application has to instruct OpenGL about the execution order explicitly by switching on and off the compute shader program object and calling DispatchCompute*() to run the compute shaders.
OpenGL compute shaders are GLSL and similar to other shaders: you can read textures, images, and buffers and write images and buffers. Just like with other GPGPU implementations, threads are grouped into work groups and one compute shader invocation processes a bunch of work groups. The work group size is specified along with the kernel source code, and the number of work groups launched is given by the application as arguments to DispatchCompute*().
Example
You should know when to choose a compute shader over the other shaders for your algorithm (this is not one such example). The reasons to use GPGPU are universal and have nothing to do with OpenGL compute shaders specifically.
You can grab the full example program here, but the important files are main.cpp and opengl_cs.cpp. In main.cpp we create an OpenGL 4.3 context (I'm being strict and using a forward-compatible core profile, but you don't have to), a texture for the compute shader to write and the fragment shader to read, and two program objects. One object is for the compute shader and the other is for rendering (vertex + fragment shaders). After that we go into a loop where we update a counter in the compute shader, fill in the texture (as image2D), and blit the texture onto the screen.
main.cpp
The compute shader set-up should look familiar as it's just another shader. (There are some specifics which are documented in the GLSLang specification.)
opengl_cs.cpp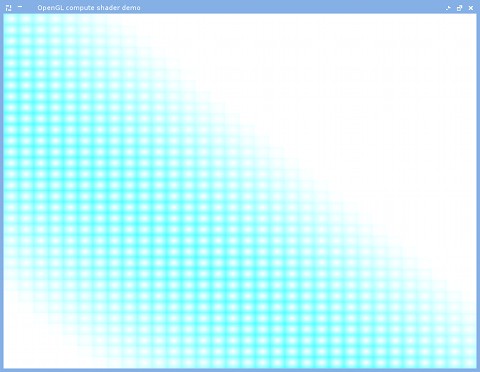 Discussion
But why did Khronos introduce compute shaders in OpenGL when they already had OpenCL and its OpenGL interoperability API? Well, OpenCL (and CUDA) are aimed for heavyweight GPGPU projects and offer more features. Also, OpenCL can run on many different types of hardware (apart from GPUs), which makes the API thick and complicated compared to light compute shaders. Finally, the explicit synchronization between OpenGL and OpenCL/CUDA is troublesome to do without crudely blocking (some of the required extensions are not even supported yet). With compute shaders, however, OpenGL is aware of all the dependencies and can schedule things smarter. This aspect of overhead might, in the end, be the most significant benefit for graphics algorithms which often execute for less than a millisecond.
Comments
31.8.2012
10.9.2012
12.9.2012
21.12.2012
25.12.2012
2.11.2013
2.5.2014
13.9.2014
3.9.2015
19.9.2015
27.11.2016
4.10.2020
4.10.2020
4.10.2020
10.9.2021
12.9.2021
13.9.2021
14.9.2021
15.9.2021
18.9.2021
19.9.2021
20.9.2021
22.9.2021
23.9.2021
23.9.2021
23.9.2021
24.9.2021
---